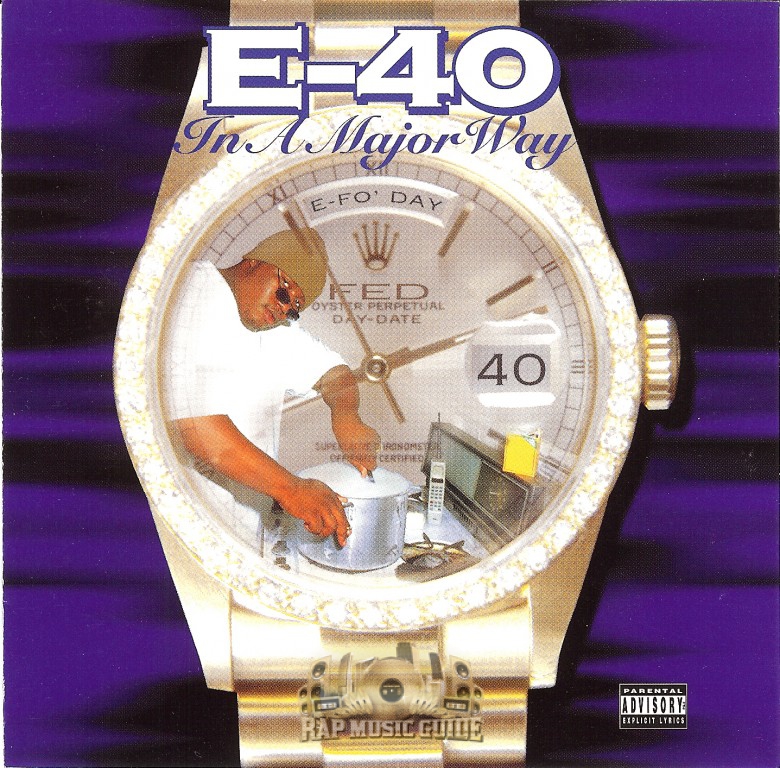 E-40 is a West Coast rapper that has a unique flow and drawl-ish delivery that makes him instantly recognizable on a song. E-40 has also been hugely influential on shaping the rap game and slang that is seen today. E-40 also has an incredible work ethic by releasing album after album, once even releasing three albums on the same day! Now I obviously can't cover all of E-40's work but I believe that I can at least cover his two biggest works
The Hall of Game
and the album featured today,
In a Major Way
.
1. Intro
Skip!
2. Chip In Da Phone
What was the point of this? E-40 just put two skits back to back!
3. Da Bumble
The first song in the tracklist is a pretty good start to the album. The beat sort of has a West Coast Eminem feel to it and while basic still manages to pass the "head-nodding" test. E-40's lyrics aren't any more deep than typical braggadocio but he is pretty damn good at doing it. E-40's use of obscure slang helps the track feel more authentic and is fun trying to decipher. However, if you didn't like E-40's rapping on here than I'm pretty sure that you won't like E-40 as this is his whole shtick.
4. Sideways (Featuring B-Legit & Mac Shawn)
I found this track to be really fun to listen to as E-40 and B-Legit pass the mic between the two throughout the verses and both of them sound like they are having fun doing it (aka chemistry). There was a really questionable moment from B-Legit said that a 16 year old girl was trying to get with B-Legit and then E-40 responds "But age ain't nothin but a number (number)/Baby got her hair done by Shanda (Shanda)/Nine (nine,) ten (ten,) eleven and up/If you bleed, you get fucked (fucked)". If anyone can explain what the hell E-40 was on about there I would be deeply grateful. The beat is funky and more bouncy than the last track and I feel that even E-40 sounds more at home to this beat.
5. Spittin'
This song had an uphill climb to battle as soon as E-40 said the second line of the song "Gotta take a shit, took a dump in the Mediterranean". Unfortunately I don't think the song recovered enough for me, the beat is alright if a bit annoying but the only time I felt like I was starting to get into the song was E-40's last verse. E-40's last verse managed to squeeze a chuckle out of me out of E-40's bitterness saying "Let tha bed bugs bite, sleep light/Be ready for the tip-toein phantoms at night". Overall though this song was pretty bad.
6. Sprinkle Me (Featuring Suga-T)
This song is pretty good with fantastic wordplay from E-40 and a light beat that fits E-40's smooth flow... at least until Suga T is introduced and this song just goes down the shitter. Suga T's voice is just so grating on this song I couldn't wait until this song was over.
7. Outta Bounds
Skit
8. Dusted 'N' Disgusted (Featuring 2Pac, Spice 1 & Mac Mall)
One of the best songs on the album no small thanks to whoever produced this beat. Everybody lyrically massacres this song with the best performer surprisingly being Spice 1. I say surprisingly because I haven't really heard any of his solo work and have only heard features every now and then.
9. 1 Luv (Featuring Levitti)
This song was actually really good as E-40 describes himself growing up with the most vivid lyrics being the usage of socks for hand-towels or the line about using sheets for curtains. The beat itself is pretty good and almost congratulatory to E-40 for finally getting out of that lifestyle.
10. Smoke 'N Drank
I found this song enjoyable as E-40 creates a feel-good atmosphere about well... its implied in the title. The beat is West Coast all the way with a catchy hook to go along with it.
11. Dey Ain't No
Almost everything about this song is horrendous, the title, the beat, the hook... the only exception is that E-40 spits some good lines here and there. Unfortunately, that is nowhere near enough to save this song.
12. Feds (Featuring Suga-T)
Yep, Suga-T is just awful. Other than Suga-T's glass-breaking hook nothing notable happens in this song.
13. H.I. Double L. (Featuring Celly Cel & B-Legit)
This song is kind-of goofy but I really like it. The beat is a bit strange but it helps make this song work as it fits all the personalities on this song, especially E-40. The chemistry on this song between the artists is fun to hear and the hook where they all sing together with some sample of a person saying "there they go!" brings out the best of this collaboration. If I could complain about anything is that I feel this song went on for too long; it should have been cut a minute short.
14. Bootsee
The beat is what really brings this song down for me along with the ear-grating hook. It also doesn't help that I hear something in the beat that reminds me of Jay-Z's "I Know What Girls Like" and that was one of THE WORST rap songs I ever heard.
15. It's All Bad (Featuring Lil E)
This is perhaps the most twisted song on this album. E-40 spits about the darkness that is his lifestyle. Even though the beat isn't that special or anything E-40's lyrics and the hook makes this song a terrifying looming thought as E-40's child asks if it will be this bad when he's growing up and E-40 responds that "It's all bad!". The only complaint I had is the verse that Lil E had but meh at least it was short.
16. Outro
There isn't anybody rapping on this but the beat and chanting on the end closes this album makes the me think about the possibility of E-40 being a much darker character than was originally thought.
Final Thoughts: The ending of this album makes me look at this album in retrospect (even if it was my first listening) and makes me think that maybe E-40 isn't really having fun in the things that he describes like in "Smoke N' Drank" but perhaps he uses these drugs to escape from the harsh reality of his lifestyle. Because of "It's All Bad" I don't think I can look back at this album and E-40 in the same way I had coming into this listening experience. Some of the production on here is... straight up trash, but on the other hand some of the production on here is fantastic or at the very least unique... E-40 is the real star of the show here anyway and his ability to get the best out of a maybe a sub-par is admirable. Overall, I would say that this album is dated but still has some gems in here that hold up to the test of time.
Best Songs: "Dusted 'N' Disgusted", "Da Bumble", "Sideways", "1 Luv", "Smoke N' Drank", and "It's All Bad"